*Little LEIGH ANN will Lighten Your Life*
This petite pup, 2 yrs old, was a last minute replacement on our Georgia transport  when BLAZE (who came the next week) started to cough.
We are thrilled LEIGH ANN became a Last Hope dog. She is a Jack Russell Terrier mix who loves to be with people and is friendly with other dogs.
In fact, while in Georgia, she was kenneled with MARTEEN (now a Last Hope dog too) because the Georgia shelter was so full.
LEIGH ANN attended the adoption event at Petco Wantagh and did her best to impress the visitors, young & old.
LEIGH ANN wants to impress You too.
Visit the Last Hope Adoption Center in Wantagh to meet LEIGH ANN .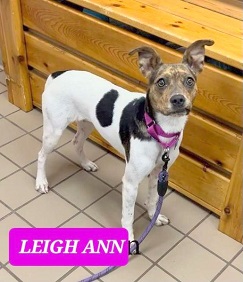 I've found my forever home! Thank you!