Adopting BENNETT Has Benefits.
This 7 year old black & tan Beagle mix is petite. BENNETT is only about 20 pounds. He loves people, and will adore you.
BENNETT hails from Bowling Green Shelter in Kentucky. He arrived with irritated paws which have responded well to medicated baths.
His feet are healing nicely.
BENNETT is not thrilled about other dogs, but he'd be thrilled to have his own person or family.
Meet BENNETT at Last Hope in Wantagh.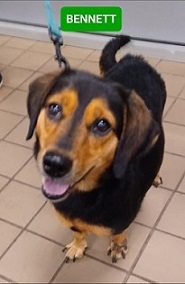 I've found my forever home! Thank you!