SISSY is SUPER. She & her brother WILLY were born in the Babylon Village truck garage, and a staff  member grabbed them after their Mom had moved them onto the seat of one of the trucks. They were only 4 weeks old. They are now 3 months old.
SISSY spent weeks in foster care before moving to Last Hope Cat Center in Wantagh, She loves to play but is quite comfy when smoozing with people.
Please visit  smooze with SISSY to find out for yourself.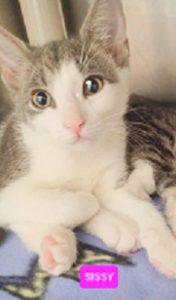 I've found my forever home! Thank you!