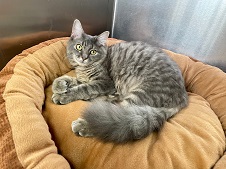 BETSY ROSS is "Sew" Sweet.
This lovely 1 year old, medium-hair, gray tabby came to Last Hope from an overcrowded shelter in Georgia, not from her namesake 's home state (PA).
She has a slight head tilt to the left which may have been caused by a bad ear infection, even though her ears are fine now.
BETSY ROSS, is an All American Cutie Cat. She is available to meet at Last Hope Cat Center in Wantagh which will be re-opened to visitors soon- very soon.
If YOU don't show up, BETSY ROSS may just have to "flag" YOU down.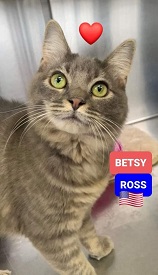 I've found my forever home! Thank you!