Puppy PEANUT Hopes to Join a "Peanut Gallery" of Family Fans Soon.
      Could She Live with YOU?
She is a 7 month old cutie with a Pugglish face found as a stray in Georgia. Her transport arrived the day before our blizzard. Bad weather, and 18 +hours in a van didn't stress her.
PEANUT is less than 25 pounds and makes friends with each person she meets.
To meet PEANUT by appointment at Last Hope in Wantagh, please complete and submit a dog adoption application found on the Last Hope website homepage.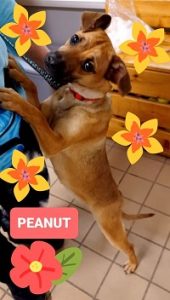 I've found my forever home! Thank you!