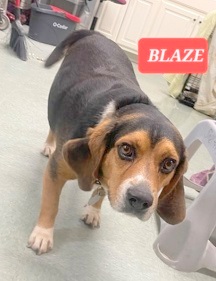 Make "Wayz" for BLAZE.
This chubby, 3 yr old Beagle was scheduled to come to Last Hope from Georgia, but he was pulled the last moment because he had a cough.
This was a wise move on the part of his sending shelter. BLAZE could have gotten much sicker himself, and he was contagious to all the other dogs on the transport bus.
A week makes such a difference health-wise, but also allowed little LEIGH ANN to come in his place.
Not sure if LEIGH ANN would have ever come to Last Hope, or if she would have been saved by another northern shelter taking Georgia dogs, if it weren't for her last minute substitute seat on the transport bus.
So please welcome BLAZE to Last Hope.
BLAZE is a lovable, slightly chubby 3 year old Beagle.
His one week delay may have been lifesaving for LEIGH ANN. It certainly is life-altering for BLAZE.
I've found my forever home! Thank you!