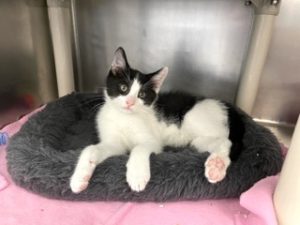 Poor BO has a Tale of Woe.
At 6 weeks old, he was all alone wandering around Plainview until John Debacker rescued him. But now he's still all alone in a cage at Last Hope.
This 2.5-month-old cutie is beginning to wonder if loneliness in solitary confinement will be his fate. BO was recently neutered so he is ready to depart Last Hope if someone nice decides to adopt him. Please tell BO that person is just around the corner & about to embrace him soooooner than you can say: "BO HAS A TALE OF WOE."
If you are interested in learning more about him, please send us an email to lasthopeadoptions@gmail.com or fill out an application from our website.
I've found my forever home! Thank you!