CUTENESS OVERLOAD
CUTIE exudes CUTENESS, BEAUTY & GRACE.
She is a very friendly longhaired tuxedo who wanders around the Last Hope lobby Jungle Room.
CUTIE is 1 of 11 cats Last Hope rescued from an eviction in Huntington of a person who had far too many cats than she could manage or afford.
They are all sweethearts who deserve a loving home where each will get plenty of
individual attention.
As for Cutie…she is smart & understands what you ask her to do.
I called her & pointed to where I wanted her to pose, and she took direction like a supermodel in front of a camera all of her young life. She is 4.
Don't miss out on adopting this Treasure of a Cat.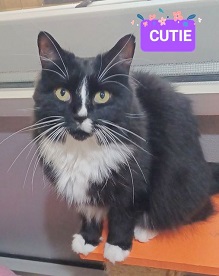 I've found my forever home! Thank you!