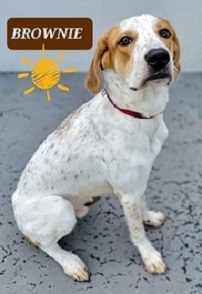 BROWNIE looks all grown up,
But, actually, he's still a puppy in that big frame.
A Puppy who has already gone through so much at only 10 months old.
BROWNIE came to Long Island as a puppy on a rescue transport from Oklahoma.
And was adopted by someone who then gave him to friends.
These friends came upon hard times 6 months later & found themselves homeless.
They turned BROWNIE into Babylon Town Shelter last week where he was bewildered about why his life changed drastically again.
The big galoot , a Pointer/Hound with a gait & back legs similar to a Great Pyrenees, was frightened by the resounding dog energy at the town shelter.
ACO Kristin realized he "had the look & history of a Last Hope pup" and asked us to take BROWNIE.
First she contacted the Oklahoma rescue .They were dismayed about his plight but had no way to retrieve BROWNIE.. not that the shelter would send him back there.
He moved to Last Hope yesterday right after the Wantagh HS homecoming parade. Seems like the occasion could be symbolic because, yes, BROWNIE belongs at Last Hope.
He has moved through life dramatically so far much like many of our geographically transplanted pups.
BROWNIE is in a different world from his birthplace…He is temporarily confused. But underneath that, we already see a handsome fellow with tons of pup potential.
BROWNIE likes other dogs, but tells them so by barking. He lived with & seems to adore kids. He acted as if he were let loose in a "candy store" when young children were around him yesterday.
He didn't know which one to smooch first.
BROWNIE, as most big pups without stability while growing up, will need training & consistency to become the dog we know he can be.
To meet BROWNIE at Last Hope in Wantagh during the upcoming week, please submit a dog adoption application found on the Last Hope website homepage.
I've found my forever home! Thank you!