BUELLA- a Tiny Beagle Discarded in Georgia because "She Didn't Hunt"- Needs a Foster-to-Adopt Home 

The Only Hunting She will be doing at Last Hope will be her Search for that Loving Foster-to-Adopt Home.
BUELLA (& RAMBO, also a Last Hope Beagle) were turned into a Georgia shelter because they were given to someone who considered them rejects because they wouldn't or couldn't hunt.
BUELLA is a heartworm positive 4 yr old female with a fancy pants name.
BUELLA needs a Foster-to-Adopt Home while she undergoes heartworm treatment & just had her  cosmetic surgical repair for her bulging, cherry eye.
She is petite & sweet with a True Blue Loving Beagle temperament. Meet BUELLA at Last Hope in Wantagh any day from 10am to 7pm.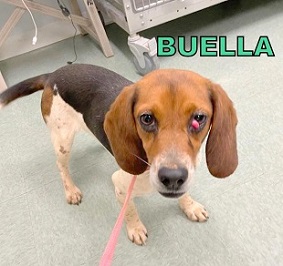 I've found my forever home! Thank you!