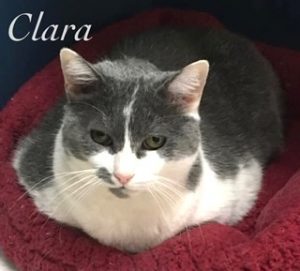 CLARA- Her Story Needs to be Shared!  Beautiful Clara is one of our overlooked darlings. Please come meet her.
Adult cats make the best companions.
The name Clara means clear, bright and famous in Latin. BUT, our Clara's life has been anything close to this- more like stressful, hopeless, and depressing. Emanating from one of Long Island's numerous feral colonies, she fended for herself and fought for a few morsels of food. An older (born 11/25/12), chipper gal, Clara is feisty, not a fan of her feline counterparts but enjoys being petted – she will let you know when she's had enough. That's just Clara!
Kitten season is upon us, and Clara is still sitting in her cage at our Adoption Center in Wantagh waiting for a home to call her own. Would you be the one who finally adopts her? Just look for her in the large cage in the back of the cat adoption floor- she will be looking for you.
Come visit CLARA at:
Last Hope Animal Rescue
3300 Beltagh Avenue
Wantagh, NY
We are Open Everyday!
Come visit me at the Adoption Center in Wantagh, New York.
[contact-form-7 id="18343" title="mfmchugh"]