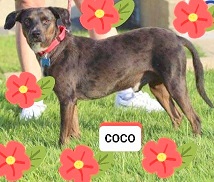 COCO is Beginning to Blossom because He's Being Nurtured with LOVE.

This is GREAT NEWS. This tiny 22 pound fellow was one of 27 dogs tied in a Georgia yard, and saved from such cruelty by authorities.
COCO came to Last Hope one week later than his yard mates  -SPARKY & MICKEY- who have already found their Foster-to-Adopt Homes when COCO was transported to us.
COCO had been at Last Hope only 3 days, and he was greeting volunteers & visitors at his kennel door.
What's Love Got to Do With It? Plenty!
The Love COCO received at Habersham Shelter & now at Last Hope is healing his broken spirit.
This Mini Pinscher-type is about 7 years old, and when he finds a Loving Home, bet he'll feel as if he is in Dog Paradise!
Meet COCO at Last Hope in Wantagh.
I've found my forever home! Thank you!