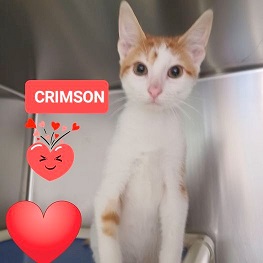 CRIMSON is a Cutie & a Love.
He & 2 brothers were rescued as 2 week old infants in Westbury. Now they are 4 month old Adoptables at Last Hope Cat Center in Wantagh.
CRIMSON & CUDDLES & COPPER (adopted)- do everything in their power to attract visitors to their cage.
Their Cage is their Stage where they ' purrform' their silly antics & stick their tiny paws through the bars to grab you.
CRIMSON is waiting to GRAB YOU Today & hold on to Your Heart Everyday.
I've found my forever home! Thank you!