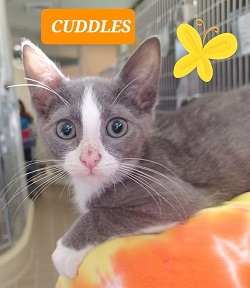 CUDDLES: CUTENESS ALERT
Can You Stand It? Isn't CUDDLES Too Cute?
He & his ginger tabby brothers just debuted for Adoption because they were neutered on Sunday.
CUDDLES & kin were rescued in Westbury at 2 days old along with their nursing Mom who raised them in Free Roamer 3 which became a separate Mama cat nursery this spring.
CUDDLES was born around May 1st. That makes him 3 months old.
I've found my forever home! Thank you!