SUMMER came to Last Hope at Labor Day as an unclaimed stray from Town of Hempstead Shelter.?
Change of season & change of shelter scenery will hopefully usher SUMMER into a the loving, Forever Home she so deserves.
She is a SWEETHEART- 1.5 years young, and
medium size at 46 lbs.
Her coat coloring looks like gray & tan tie dye, and her eyes are two different colors- one blue; one hazel.
SUMMER has an adorable pink pigment dot on her nose.
To meet her is to love her. Adopt her.
She can be Your Endless SUMMER.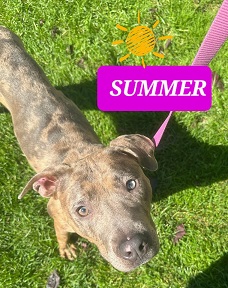 I've found my forever home! Thank you!