Meet RAFIKI
Our 4 year old male tabby is waiting to meet YOU too at Last Hope in Wantagh.
He is one of 4 cats that Last Hope embraced after a sheriff eviction & alleged other legal problems for their former owner in Westbury- because the Town of North Hempstead Shelter does- not accept cats.
(Think about that. Where do that Town's cat victims of legal & special circumstances usually go?)
The foursome was spay/neutered at the Last Hope TNR clinic on Sunday, but they are NOT feral. RAFIKI & kin are definitely friendly, adoptable & grateful that Last Hope welcomed them into our feline fold.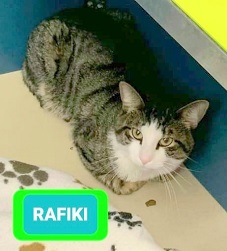 I've found my forever home! Thank you!