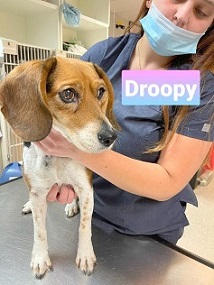 DROOPY Really Needs a Beagle Lover
She has such a sad story to tell. She is an 8-9 year old Beagle. On a recent visit to a vet, her former Long Island owners were told she needed a dental. She was their son's dog, and he is in jail. They refused to pay for the work on her teeth & told the veterinarian to euthanize DROOPY instead.
The doctor & his staff were so upset that they reached out to Last Hope to take her.
OF COURSE!
The kind veterinarian is so grateful he will be doing the medical procedures DROOPY needs pro bono before her ADOPTION.
DROOPY deserves someone who Appreciates Beagles-  especially older Beagles.
To meet DROOPY by appointment at Last Hope in Wantagh, please complete and submit a dog adoption application found on the Last Hope website homepage.
I've found my forever home! Thank you!