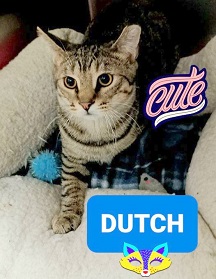 DUTCH Wants U 2 Know He Just Moved to Petsmart Bellmore on 2/2/22. Please Come C Him There. He Asks U 2 Care Enough 2 ADOPT HIM.
Hope You Can Read DUTCH's Cat Code.
He was rescued in Island Park recently, and is 8.5 months old. His brother was just adopted, and it was sad to see him alone at Last Hope.
He has a cute kitten voice because he wants you to notice how sweeeeet he is.
Petsmart Bellmore is on the south side of Merrick Rd. DUTCH wants to know what time he should expect your visit.
I've found my forever home! Thank you!