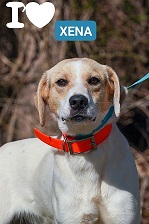 Meet XENA
XENA was our only Georgia rescue this week. Her background iss horrific. She came from a hoarder house with 60 dogs.
XENA's temperament is top notch despite the circumstances of her young life. XENA, a 1 year old Pointer/Hound, waltzed into Last Hope and greeted every volunteer as if she was a long, lost friend.
More from her Georgia sending shelter:
"XENA is another dog from the ongoing hoarding case in our county.
She is a very sweet girl and has not shown us your typical hound type personality.
She has met a few dogs on the leash, and did well. However, she did live with at least 60 other dogs.
She has been playing great with one of the employees' personal dogs.
She is a female, so we will test with males this week."
You can meet XENA any day at Last Hope in Wantagh from 10 to 7 as long as you are wearing a face mask.
I've found my forever home! Thank you!