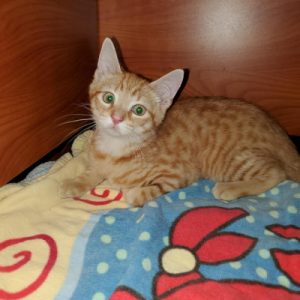 Parallel Perils Brought These "Twin" Kittens Together
Hopefully Their Sad Sagas Will Bring Each a Happy Home.
BINX & FROGGER are brothers from different mothers. Each is a male orange tabby born in April. FROGGER is about 2 weeks older than BINX.
In May, Each Kitten was Rescued as an Infant Found Alone & then Nurtured in the Same Last Hope Foster Home by Marlene.
BINX was saved by someone who found him fending for himself in Bay Shore, and then asked for rescue help on Facebook.
FROGGER was rescued by John Debacker after ge was seen trying to cross Merrick Road in Merrick. FROGGER cut his mouth during his escapade.
Together or Single , adopting BINX and/or FROGGER will bring the joy of orange tabbiness into your life. Meet the "fake orange tabby twins" at Petsmart Bellmore. 
If you are interested in learning more about them, please send us an email to lasthopeadoptions@gmail.com or fill out an application from our website.
I've found my forever home! Thank you!