NINA Needs YOU…Yes, She Does. Little NINA is a secret tabbico because she has one small gold spot on the top of her tabby head. She was rescued from a Farmingdale Bus Yard when only 6 weeks old.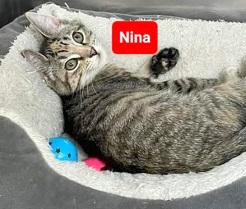 After foster care, NINA moved to Petsmart Huntington to show off her tiny gold forehead spot and to hope for a forever home.
Please visit NINA at Petsmart Huntington. She is waiting to seeeeee YOU!
I've found my forever home! Thank you!