Say HI to HEIDI. She Never Got to Be a Carefree Kitten
Instead, she was found in a Ronkonkoma 7-11 parking lot with her 6 kittens when she wasn't even 1 year old yet. How did they get there?
HEIDI & her babies were rescued and placed into Last Hope foster care with Marlene who showed them people can be very kind.
HEIDI internalized this lesson from her foster Mom.. This kitty is 18 months old now, and very loving to people.
She moves her head in toward you & cuddles so you can pet under her neck.
Look at her silly pose in this photo.
HEIDI, a great, young Mama cat, has more than earned the right to have a comfy, inside home where she can be playful to her heart's content.
To meet HEIDI by appointment at Last Hope in Wantagh, please complete and submit a cat adoption application found on the Last Hope website homepage.
Or from Wed -,Sun. from noon to 6pm, stop in to see HEIDI at Last Hope in Wantagh without an application as long as you are wearing a face mask.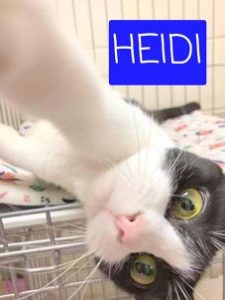 I've found my forever home! Thank you!