MILES is a Bus Yard Kitten Who 
Traveled to Petsmart Huntington to be Seen
This sweet, black mini-panther was rescued from a Farmingdale bus yard when  only 6 weeks old.
Now MILES is  a few days short of 3 months old & waiting patiently at Petsmart to be picked as someone's loved pet . Please visit him there.
The shopping center is undergoing construction but Petsmart  Huntington is open.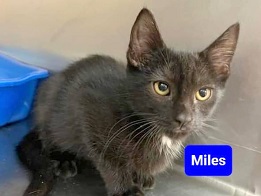 I've found my forever home! Thank you!