LAYLA is LOVELY
LAYLA just arrived from Kentucky. She is a pretty, smooth Aussie/Beagle-1 yr old. Happy & Sweet.
LAYLA is food-motivated and will listen for a treat. She is puppyish, and should respond well to basic training.
She is eager to become someone's Special Pet. You can meet LAYLA at Last Hope in Wantagh, any day from 10 to 7 as long as you are wearing a face mask.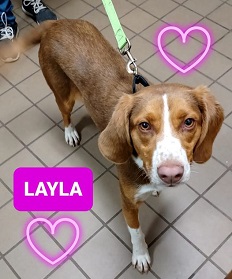 I've found my forever home! Thank you!