MARCO is Waving to YOU.
He wants YOU to know he is back at Last Hope in Wantagh because a family member has allergies.
MARCO is an adorable orange & white fellow who was found in an industrial area of West Babylon outside where the old Babylon Town Shelter used to be.
He is 6 months old & super friendly. In fact, his foster Mom Joy teaches all her kittens to accept kisses on the top of their head.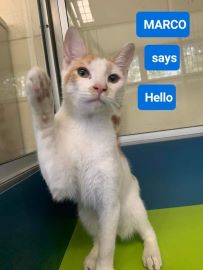 I've found my forever home! Thank you!