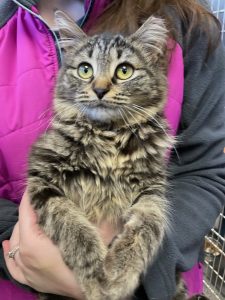 Hello, I am Marina, and it is very nice to meet you all. I was recently rescued with my sister Minerva by a nice man and brought here to this big new place. At first it was overwhelming but now I love it here. I get lots of attention from the volunteers and they call me "fluffy." I am not sure what that means but it sounds like a compliment. I just celebrated my second birthday and how cool would it be to celebrate with my forever family in a brand-new home. I am beautiful and quite friendly too. I love to greet you with a friendly meow and give you big hugs. I look forward to finding a family that will love me, play with me and enjoy many happy years with me.
If you are interested in possibly adopting me, please fill out an application from the homepage.
I've found my forever home! Thank you!