Meet MAX.
MAX arrived at Last Hope today. He left a Beagle-crowded Kentucky shelter, and journeyed to Last Hope, the Unofficial Beagle Halfway House on Long Island.
This handsome tri-colored Beagle boy is 5 yrs old, and hoping he has a short stay at our Beagle Halfway House, and that he gets scooped up as a Family Pet faster than you can say:
"Beagles are Better Off at our Beagle Halfway House, because Beagle Lovers Flock here to Turn them into Beloved Pets ."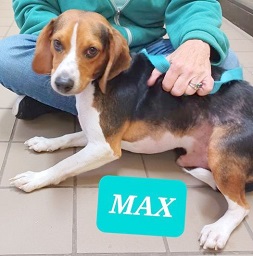 I've found my forever home! Thank you!