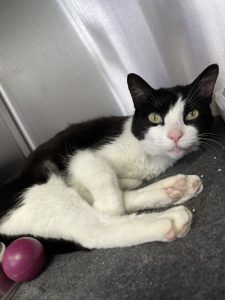 Meet MISS PIGGY
She's a Muppet of a Kitty.
MISS PIGGY comes to Last Hope from Town of Oyster Bay Shelter. She spent over a week there to be sure she didn't have an owner searching for her. Turns out she was already spayed but not microchipped. This 2 year old sweetheart showed up in a Syosset neighborhood. She was extremely friendly & hungry, but the neighbors were annoyed by her presence & persistence to stay there. Supposedly, a neighbor "took her for a ride" to a remote place, but she returned in 5 days. They wanted her gone. Supposedly, the only food she got was an occasional piece of bread dipped in bacon grease. The neighbor telling us the saga wanted help getting rid of her because, supposedly, her husband was allergic when she followed him around the yard. Listening to this tale of woe, our only concern wasn't about the cat complainer – but, instead, about the welfare of this poor cat.
Welcome MISS PIGGY to Last Hope Cat Adoption Center. She deserves a real home.
If you are interested in learning more about her, please send us an email to lasthopeadoptions@gmail.com or fill out an application from our website.
I've found my forever home! Thank you!