PIETRO is a 3 month old kitten with a purrpetual purr. It's the soundtrack of this not-so-scary movie.
PIETRO is a treasure. He & his tabby brother PEDRO were rescued in Huntington Station earlier this month. We put their birthday at July 4th.
Two lovey-dovey kittens, both anxious to meet YOU. They need not be adopted together.
To meet PIETRO and/or PEDRO by appointment at Last Hope in Wantagh, please complete and submit a cat adoption application found on the Last Hope website.
However, from Wed through Sun from noon to 6 pm , you can visit our adoptable pets at Last Hope without an appointment as long as you are wearing a face mask.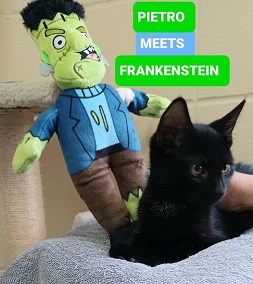 I've found my forever home! Thank you!