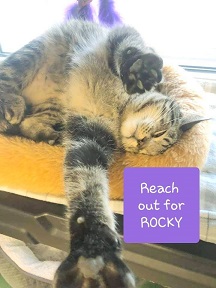 ROCKY- Rock Star & Champ of Purrsonality-
is REACHING OUT to YOU…
He doesn't want his LOVE on LOCKDOWN.
He'd be thrilled to be ADOPTED from Last Hope Adoption Center in Wantagh which can be done by appointment.
This effervescent tabby kitten is originally from Babylon Shelter where he was turned in during Oct. as a kitten found outside.
ROCKY is a 9, almost 10, months old now. He's transformed from a frightened baby to a MUSH.
His right eye has some corneal scarring from an eye infection that surfaced before he entered the shelter.
ROCKY is now waiting at Last Hope in Wantagh. He'd love to become your ROCKY I, ROCKY 2, ROCKY 3….ROCKY 62.
Get the picture?
Update 3/2020: Rocky is currently in foster care with a Last Hope volunteer during the pandemic shutdown.
I've found my forever home! Thank you!