HOW CAN 1 PERSON SAVE 100 CATS?
EASY.
SPAY-JUST ONE.
Last year we started "Just One" in early March as kitten season was beginning. As of July 2nd, we're Thrilled & Thankful to announce your generous "Just One " donations enabled Last Hope to Spay/Neuter & Vaccinate 191 feral cats,and then soared over 200 cats months later.
Now March 2020, our fundraisers are canceled because of COVID-19 so we are resuming this Community Cats campaign in hopes donors to"Just One"  will ease cat overpopulation & prevent many kittens from being born to suffer the same feral fate as their parents.
Below explains how YOU Can Participate in "Just One":
HOW CAN 1 PERSON SAVE 100 CATS?
EASY.
SPAY-JUST ONE.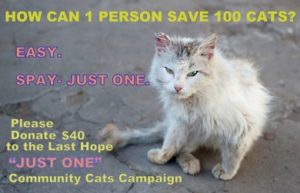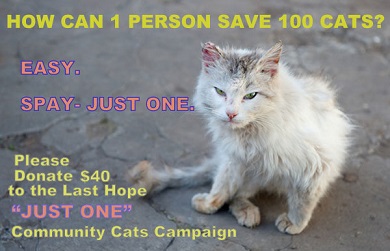 And that's what Last Hope's going to ask you to do.
We're at the start of a busy kitten season and in the midst of a pandemic, medical and financial crisis..
At times, the overflowing feral cat population on Long Island seems an insurmountable problem to animal advocates.
But, when we remember feral cats are really "Community Cats", we can see a compassionate way to alleviate the problem.
The Feral Cat Surplus creates suffering….Suffering initially caused by callous people abandoning tame cats into the community.
But when kind people in the community work TOGETHER, we can decrease the feral population by preventing more kittens from being born.
Each breeding feral represents a future family tree of at least 100 more ferals- when you consider a female can get pregnant before 5 months old; a cat can get pregnant again while nursing; a cat can have 2 to 3 litters a year and within months the Mom's kittens begin reproducing.
It costs Last Hope about $40 to spay/neuter each feral for Trap/Neuter/Return (TNR).
Join our Community Cats Campaign:
Please consider sponsoring "Just One" Spay by donating $40 via our PayPal link: below:
https://www.paypal.com/cgi-bin/webscr?cmd=_s-xclick&hosted_button_id=RTA2ULMQMTN8N
or by writing a $40 check to Last Hope (with "Just One" on the subject line), mailed to Last Hope, PO Box 7025, Wantagh, NY 11793. (Feel free to sponsor "Just Two" or more.)
Last Hope will do the "leg work" and take care of the vetting.
If 1 person can save 100 cats by spaying "Just One"…
Imagine how many cats we can save from a life sentence as a feral when we work together as a Community of Cat Caretakers.
THANK YOU for your Support! MANY THANKS to those who have already contributed to "Just One".