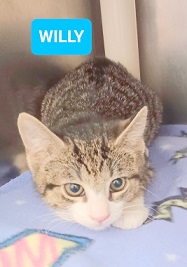 WILLY is wondering when you will be coming to meet him at Last Hope Cat Center in Wantagh. He is preparing to be extra cute when  you get there. Hard to believe he could be any cuter than he usually is.
WILLY and his sister SISSY were born in the Babylon Village truck garage, and somehow their Mom moved them to a truck seat which turned out to be a spot where a worker could easily grab these tabbilicious tabbies.
WILLY emerged from foster care as a friendly fellow who loves to play…Visit WILLY at Last Hope Cat Center in Wantagh where Willy wants to send you his best wishes in Purrson..
I've found my forever home! Thank you!