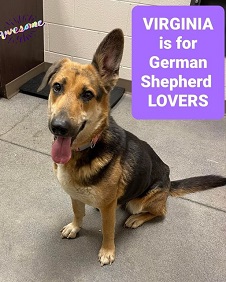 VIRGINIA is a 2yr old, 48 lb German Shepherd Dog with 1 floppy ear. She is a treasure for GSD Lovers.
According to her Georgia sending shelter:
"VIRGINIA came into our shelter after a caller stated she followed her son off the school bus one day and would not leave.
It is apparent VIRGINIA had a family at one time- She keeps a clean kennel and seems uncertain with her daily life in a shelter.
She is very calm and well mannered.
And Dog Friendly."
YOU can meet VIRGINIA at Last Hope in Wantagh without an appointment from 10 to 7pm any day as long as you are wearing a face mask
I've found my forever home! Thank you!