BUDDY May Become the Best Buddy YOU Ever Had ..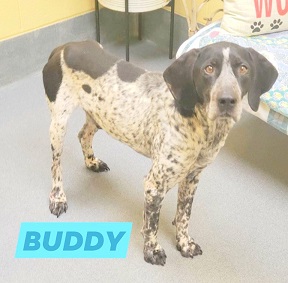 At Amherst Humane in Virginia-
BUDDY was from the same neglectful home as our emaciated Hound ANGIE. They entered the VA shelter together as strays who needed to be treated for several intestinal parasites.
BUDDY is a timid black & white German Shorthaired Pointer mix who deserves a doting home, and TLC to help him feel more relaxed.
We were told their original owner came forward because Animal Control wanted to speak to him about the condition of his dogs.
He said they were 2 of his best dogs but he would not be paying a reclaimed fee for them.
He left them at the shelter.
Imagine the condition of his other dogs if ANGIE & BUDDY were his best.
BUDDY is at Last Hope in Wantagh & bears no grudge for his past treatment. He wants to be everyone's Best Buddy. BUDDY is a little bit nervous in new situations because of his past, and will do best in a home with another dog. He LOVES other dogs.
We are looking for an adopter who will pamper this "Best Dog" in a FOREVER Home.
I've found my forever home! Thank you!