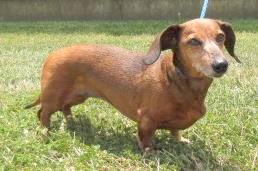 Poor FRANCES!
Imagine being an older Dachshund (10+ years) with long nails and bad teeth wandering as a lost stray and fending for yourself in rural Kentucky?
That was the predicament FRANCES found herself in until someone found her and took her to the KY shelter. No owner claimed her. Imagine that. Sadly, this happens with most senior small dogs at LI town shelters too.
Then FRANCES had a change of fortune. Friends of Daviess County Animal Shelter took her and showed her to Last Hope as a possible transport rescue. We happen to have a soft spot for elder Doxies, so it was a done deal.
FRANCES saw our vet today..her curved nails were clipped, and she will have a dentistry soon.
Dachshunds often live to their late teens. FRANCES is the correct weight…She will make a lovely companion for someone as devoted to mature Dachshunds as we are.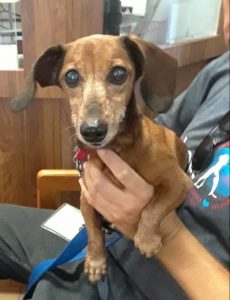 I've found my forever home! Thank you!