Don't MISS OUT on MISSY!
She is a new arrival at Last Hope….
One of 16 dogs taken from a hoarder house in Logan, KY…5 of these dogs are Last Hopers now.
MISSY is about one year old. This sweetheart resembles a Beagle/Dachshund with Beagle coloring & a Doxie jaw & a Doxie elongated body.
Cute Beyond Words.
Don't Miss Out on MISSY.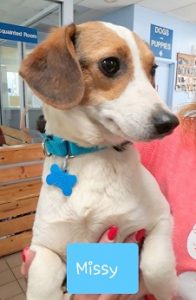 I've found my forever home! Thank you!