PRINCESS is 14 yrs old going on 4.
She's a happy, peppy, friendly senior who loves every person she meets.
You'd never know she was 14 because of her zest for fun.
PRINCESS POODLE is looking for a FOREVER FOSTER Home.
Her Story:
She was a sweet 14 year old Miniature Poodle surrendered by her owners several months ago rather than have life-saving surgery on this spunky little girl.
After her surrender, she did have pyometra surgery..which means she had been unspayed & had a badly infected uterus that needed to be removed.
PRINCESS recuperated & moved to Last Hope in Wantagh. Soon after we discovered a mammary lump which we had removed. It came back malignant which is also common in older dogs who go a long time before being spayed.
Our vet agreed we should leave PRINCESS alone rather than subject her to chemo. The removed breast lump may not cause further problems.
PRINCESS would LOVE to be with a family..she enjoys being around kids & other small dogs.
As a FOREVER FOSTER, Last Hope will cover her veterinary expenses while she dazzles her Foster Family with her "oldie but goodie" charms.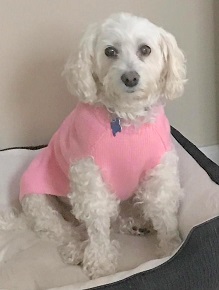 I've found my forever home! Thank you!