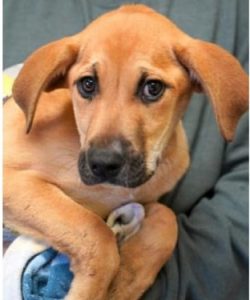 ROSITA-COME & MEET HER…
She is a 3 month old puppy from a crowded Kentucky shelter.
Her paperwork says she is a Beagle mix but that's debatable. She looks more like a Shepherd/Retriever combo with "Flying Nun" ears who will grow to be bigger than a Beagle.
ROSITA was shy the first day, but wiggling up to the front of her cage to meet visitors soon after.
The long transport to Long Island may have been frightening to her, yet she is adjusting nicely.The loving attention of our many volunteers will help ROSITA relax even more.
-As will a loving adopter who takes ROSITA home & assures her everything is going to be much more than all right.
I've found my forever home! Thank you!