Meet SOUTH PAW:
A super sweet 2.5 month old kitten Last Hope took from Hempstead Shelter next door.
His front right foreleg has an angular bend.
Our vet said he has a congenital problem called radial aplasia where the radius (a bone in the forelimb) is either underdeveloped or lacking.
SOUTH PAW can walk & does not need medical intervention.
He is just Purrfect just the way he is.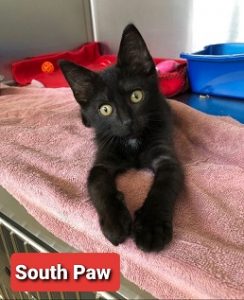 To meet SOUTH PAW by appointment at Last Hope, please complete & submit a cat adoption application found on the Last Hope website homepage.
I've found my forever home! Thank you!