SUGAR is Much Sweeter than her Name
This 8 year old Chihuahua mix has just faced tragedy but she doesn't let that sour her spirits.
Her owner died; her owner's daughter turned her into a Kentucky shelter; she has hair loss from flea dermatitis & had a urinary tract infection. She probably needs a dental.
Then she was added as a last minute pup passenger on Saturday 's long transport to Last Hope. That's her best news.
SUGAR is a SWEETHEART, as Friendly as can be. The medications are already healing her skin & urinary tract infection. Last Hope can do her dental.
This dear dog will be so content if she finds someone to adopt & coddle her FOREVER.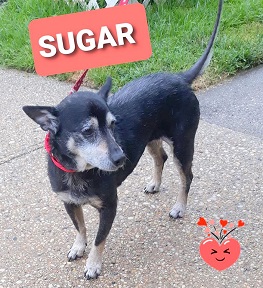 To meet SUGAR by appointment at Last Hope, please email lettycanals@gmail.com.
Come visit me at the Dog Adoption Center.