VIOLA & BANJO Would Love to Make Beautiful MEWSIC with YOU
These siblings have been at Last Hope since 2018 when they were rescued in Huntington Station at 8 months old.
Since they were first around people as older kittens, they were shy & somewhat frightened.
Their "cute kitten window of adoption opportunity" passed them by.
Our "string duet" has resided in the Wantagh Center lobby Jungle Room for quite some time where they have gotten lots of attention from Last Hope volunteers. They are 2.5 years old now.
VIOLA & BANJO have made lots of social progress . They enjoy petting but don't like to be picked up. They like being around other cats.
They are looking for a HOME where patient people will appreciate both of them for the kitty cats they are…and will not "pick them up" trying to make them be the kitty cats they are not.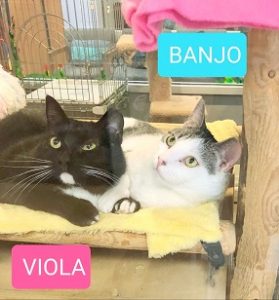 Look at how BANJO puts his paw gently on his sister VIOLA's wrist. (Do cats have wrists?)
Come visit me at the Adoption Center in Wantagh, New York.