He survived, defying all odds. He thrived in foster care, blossomed into a bubbly, friendly kitten & was neutered yesterday.
This almost -a -miracle kitten is now at Last Hope in Wantagh waiting to be adopted.
ALL because of his rescuer & foster Mom -Jenny L. When she found him on Wheeler Rd in Hauppauge as a teeny kitten, WINSTON was near death. He was smothered by maggots & severely dehydrated. The first photo spares you the graphic detail of other pictures Jenny took.
After months of TLC in foster care, WINSTON became the happy 4 month old kitten you see in the second photo.
With a heavy- heart, Jenny knew she'd be giving up her WINSTON yesterday when she brought him to Last Hope for his Big Snip.
But she also knows her role to restore him to good health & good nature is complete, and that there is a FOREVER Someone out there who will LOVE WINSTON as much as much as she does.
Let's find that FOREVER Person together.
To meet WINSTON by appointment at Last Hope in Wantagh, please complete and submit a cat adoption application found on the Last Hope website homepage.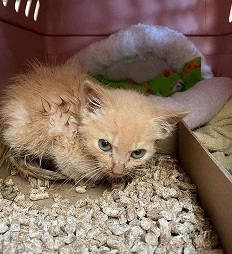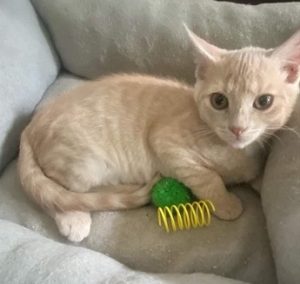 I've found my forever home! Thank you!