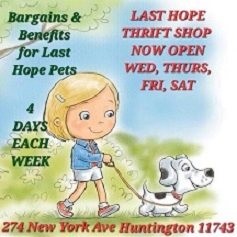 LAST HOPE ANIMAL RESCUE THRIFT SHOP
DAYS & HOURS:

WEDNESDAY,

THURSDAY, FRIDAY AND SATURDAY FROM 10AM TO 3PM 
The Last Hope Thrift Shop is a Treasure Trove. We have home decor- new & vintage, holiday decorations, small appliances, pet products, toys, unique one-of-a-kind finds, plus new clothing with tags or in good condition and accessories, handbags and jewelry (silver, gold, costume and vintage) and much more.
If you love the thrill of the hunt, please come down get some great buys and support our cause.
Your Thrift Shop Purchases and Donations can be magically turned into veterinary care, pet spay/neuters, pet supplies, transport fees and everything needed to care for our homeless dogs and cats.
More VOLUNTEERS Needed.
Email jvsabu@aol.com for additional information.
Donations Accepted at the Thrift Store when it is OPEN. Or at Last Hope in Wantagh, if labeled "Thrift Shop".
Please do not leave donations outside.
We CANNOT take books other than animal or pet books, DVDs, CDs, VCR tapes, picture frames, hangers,
full sets of dishes or glasses.