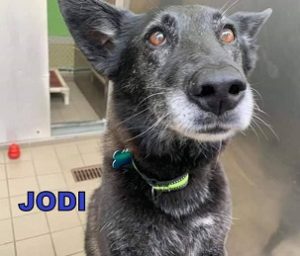 *JODI Needs Another Patient Person.*
This sweet, but frightened 6 yr old Shepherd mix with Belgian color & tail fluff was picked up as a stray in Virginia traveling with a bubbly dog-ASHLEY- (who's been adopted from Last Hope).
JODI was more relaxed when ASHLEY was near & may do better with a calm dog.
We have no idea what troubles she experienced in her VA home. Were the 2 dogs lost or abandoned? How long did they fend for themselves?
JODI has been in pandemic foster care with a lovely Last Hope volunteer who planned to adopt her but her landlord decided she is not allowed to have a permanent dog according to her lease.. The news is devastating.
JODI's foster Mom is quite heartbroken & explains some of JODI's fears:
"JODI is extremely fearful of loud noises- even my cell phone when I get a text message.
She hasn't bonded with anyone else in my house. She runs away from them especially men.
JODI is not exposed to other dogs here because we are not allowed pets as per my lease .
I think she would be better off in a home with older children 10 and up.
She happily goes for walks in the morning but later in the day she wants no part of it.
I have a nice backyard but she rarely is interested in playing outside -maybe she was not allowed in her past life.
She is unfortunately very attached to me and I have become very attached to her."
JODI is endearing. Her brown eyes beseech you. She needs another gentle, patient person to continue her emotional conditioning, assure her the people in her life now, including men, are here to love & protect her. No one will ever hurt or scare her every again.
JODI & Last Hope are so grateful for the kindness her foster Mom has shown this Shepherd the last 3 months .
To meet JODI, please emall lettycanals@gmail.com.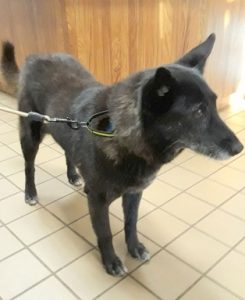 I've found my forever home! Thank you!