A Public Service Messages from LITTLE MAN: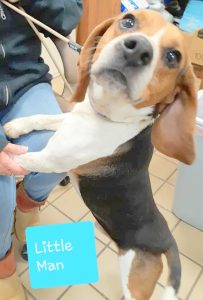 ** He is a new Beagle arrival from Bowling Green in Kentucky…3 years old…and wise beyond his years .
** LITTLE MAN wants everyone to know he is a sweetheart, is a classic-looking Beagle, has a keen scenthound nose & likes small children.
He feels it is a Public Service to announce he is available for ADOPTION at Last Hope in Wantagh…and he has the makings of a Great Family Dog.
I've found my forever home! Thank you!