MIA Needs a FOSTER or FOSTER-TO-ADOPT HOME
MIA is the last dog to enter Last Hope Dog Center before the lock-down order.
She is a large (73 lb), young Shepherd mix from an overflowing Texas shelter who is doing well but needs more exercise, possibly more family members & perhaps another dog in the home.
Her current foster parents have made lots of progress with MIA & adore her but don't have a fenced yard. They are not sure they can provide the best environment for success if she can't run free.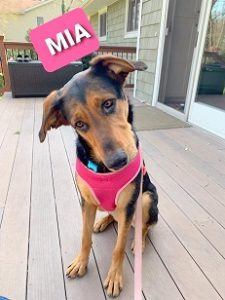 Here are MIA's Strong Points:
1)She's a beautiful loving, sweet dog and super smart – has learned many commands, and is eager to please.
2)She doesn't seem too excitable by kids, cats, birds or other wildlife.
3) She is completely housebroken & crate-trained.
Things MIA needs to work on are:
1). Down time/Relaxation – she's all out "on", and will only relax in her crate.
2). Jumping/lunging/barking during walks at other walkers, runners, dogs, bicycle riders, baby strollers.
3). Car rides – she's frantic and anxious – needs to be crated in the car.
Are YOU a Good Foster-Fit for MIA?
If so, please call our Dog Coordinator Letty at 631-946-9528.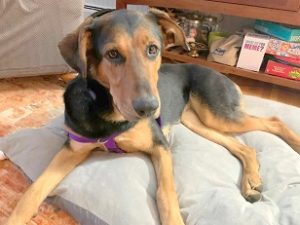 I've found my forever home! Thank you!