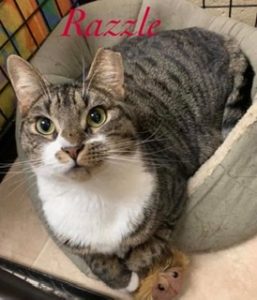 RAZZLE will DAZZLE you.
If you take the time to talk to her.
She came to Last Hope Wantagh as a shy,
but friendly tabby trapped for TNR at a Wading River cat colony. She was too sociable to go back there.
At Last Hope, RAZZLE has blossomed into a loving 1 yr kitten who answers your discussions with her in a falsetto meowy voice, and craves attention.
She wants to leave Last Hope, embraced by someone who will treasure her; but RAZZLE worries b/c lots of people walk by & don't even glance at her b/c she is no longer a kitten.
RAZZLE hopes YOU will notice HER in the wide double cage on the left as you walk into our Wantagh Cat Center.
I've found my forever home! Thank you!