Calling WEIM Lovers!
WYATT the Weimaraner (short for "Why'd Ya Eat It?)
is looking for a breed-savvy or Sporting Dog-experienced owner.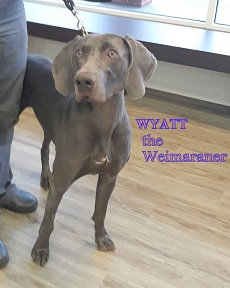 He is a 15 month old Weimaraner purchased impulsively as an 8 week old puppy from a mall pet store.
He came to Last Hope because he needed emergency surgery after swallowing a belt.
WYATT had the surgery yesterday via Last Hope..and is now looking for a breed- savvy Home.
Weimaraners need lots of exercise & room to run & explore. They love to go through hunting motions for hours a day…which includes hunting for household items to eat if not tired from running & hunting outside.
WYATT loves people, kids and appears to like other dogs. He knows SIT & is food-motivated.
He needs a vigilant owner who will train him & monitor him carefully so he doesn't ingest anything else dangerous to his health.
WYATT has great Pup Potential in the Right Hands.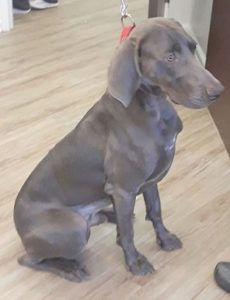 I've found my forever home! Thank you!